A revolutionary electronic pipette to increase productivity and data quality in the laboratory
Pipettes play a key role in the laboratory by enabling real-time data capture and integration with other equipment, ultimately increasing productivity and data quality. Picus® 2 electronic pipettes are equipped with Bluetooth connectivity, which enables seamless and flexible connection to any data management system. A unique offering with Picus® 2 is the Sartorius Pipetting app for mobile devices, thoughtfully designed as a comprehensive solution for pipetting workflows.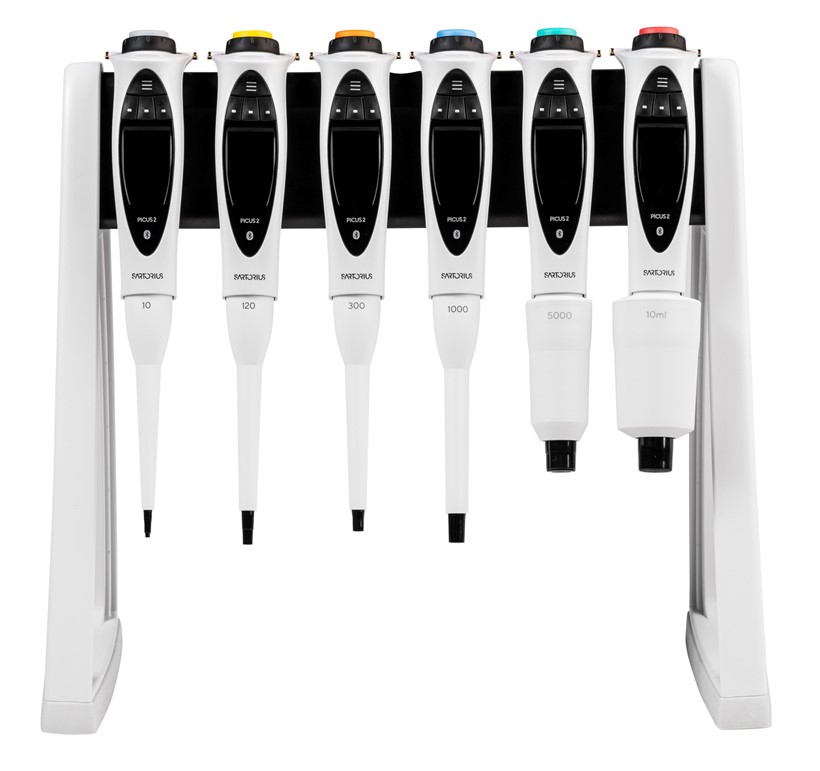 With Picus® 2, we have created a fully connected electronic pipette that transforms the pipetting experience for our users. Thanks to its connectivity capabilities, users can either integrate the Picus® 2 with their existing system or connect it to the companion Sartorius Pipetting application to access our expansive library of configurable protocols, step-by-step guides, software updates and other pipetting management tools that simplify daily progress.

Joni Åke, Product Manager Liquid Handling, Sartorius
Picus® 2: The perfect combination of ergonomics and precision for reliable pipetting
Building on the success of its predecessors, the Picus® 2 features unbeatable ergonomics, a wide range of pipetting modes and precision electronic pipetting. The ergonomic design, with a comfortable fit in the hand and electronic attachment removal, not only improve overall comfort and efficiency, but also reduce the risk of strain. A large digital display and intuitive menus provide easy access to day-to-day operations, while password security and programmable calibration reminders support compliance needs.
We designed the Picus® 2 for maximum usability and comfort, two key factors for reliable pipetting results. Despite its ability to perform complex functions, the Picus® 2 is as easy to operate as a mechanical pipette. Picus® pipettes are also synonymous with exceptional ergonomics, which promote effortless and error-free pipetting. Ergonomic design, ease of use and flexible connectivity options work together to ensure accuracy and repeatability in fluid handling workflows.

Sandra Söderholm, Application Development Scientist for Lab Essentials, Sartorius